To help you with your planning, here are some answers to the more frequently asked questions about the Alps 2 Ocean Cycle Trail.
Yes, the Trail is there for the enjoyment of walkers, runners and cyclists.
This was part of the original vision for not just the Alps 2 Ocean Cycle Trail, but all of the New Zealands 22 Great Rides. We see increasing numbers of walkers enjoying the Trail for its awesome and constantly changing scenery. Equally many joggers and runners enjoy getting 'off-road' and find the Trail surface a really comfortable surface to run on.
Parts of the Trail from Tekapo to Ohau also share the same route as the Te Araroa walking trail that journeys from the very south of the South Island to the top of the North Island - that walking trail typically takes about three months to complete. On that basis the Alps 2 Ocean should take about 12 days to tick off, but we'd like to hear more from those that have completed that journey on foot (in either direction) to get a better idea of the timing.
The Alps 2 Ocean Ultra was a competitive 320km running race organised over seven days on a course taking competitors mostly on the Trail. A number of the competitors ran the race unsupported, meaning that they also carried their own food for the duration. Hats off to all those that even attempted this awesome feat of human endurance. The Alps 2 Ocean Ultra was organised in 2018, 2019 and 2020, completed by around 100 competitors each year.
The Alps 2 Ocean Cycle Trail is 100% signposted and rideable. Most parts of the trail are off-road.
Many cyclists have ridden the full trail and enjoyed the Trail in its current state. Wearing a high-visibility vest is recommended for any of the on-road sections - be safe - be seen!, and this is particularly true for the remaining sections that are on roads.
Fitness
Almost anyone with a moderate level of fitness can ride the Alps 2 Ocean Cycle Trail. Some sections are easy, while others are intermediate. This is not a flat Trail - you will encounter a variety of inclines, declines, and ever-changing trail surfaces. Please look at the maps and study the Trail surface photos / gradients. This will help you gain an understanding of what lies ahead on the Trail.
Most of the sections are between 30-50km. If a person rode at an average of 10km per hour, this is 3-5 hours out of the day. Spread it out and take it easy or go fast and do 2 sections per day - the choice is yours. It is recommended that you practice cycling some distances before embarking on the Alps 2 Ocean Cycle Trail.

To help you with your training Janet Stark and New Zealand Cycle Trail (NZCT) have put together a 12-week training plan for the Alps 2 Ocean and other cycle trails.
Skill
The Alps 2 Ocean Cycle Trail encompasses a variety of Trail surfaces. While the smooth off-road portions should not present issues, it is recommended that you have some prior experience with cycling on loose gravel and alongside vehicles on the highway. The gradient is overall relatively easy to handle, although there are a few uphill and downhill portions.
The Alps 2 Ocean Cycle Trail is free to ride. However, if you have enjoyed your experience and would like to make a donation for the ongoing maintenance and construction that would be much appreciated. Every little bit helps!
A mountain bike would be best suited for the variety of trail surfaces that you will encounter on the Alps 2 Ocean Cycle Trail. However, a touring or hybrid bike will also handle the Trail.
One recommendation is to have your road/hybrid tyres changed to a tyre with more tread and grip.

The Alps 2 Ocean Cycle Trail has been successfully ridden by all types of bikes: road, hybrid, tandem, recumbent, touring, single speed, folding bikes with 20" tyres - even penny farthings.

If you are not riding a mountain bike please be aware you may need to walk your bike over some rough sections.
Yes and No. To cycle the full Trail, a helicopter is the only way across the Tasman River, minimum of two people.
However, there are many options for alternate starting points. The Tekapo B Power Station near the bottom of Lake Pukaki is a popular alternate starting point that skips the helicopter crossing. You can also start at Lake Tekapo, and cycle the Tekapo Canal Road until you reach the shores of Lake Pukaki, where you join the proper Alps 2 Ocean Cycle Trail.
Summer and autumn seasons (December to May) are ideal times to ride the trail. Spring (September to November) can also be pleasant, although there is sometimes rain and wind around that time of the year.
March and April are generally cooler than the summer months, plus there are autumnal colours in certain sections.
You may encounter snow and frosty conditions on the Trail during the winter months (June to August).
Alpine weather can change quickly - several parts of the trail are in alpine environments where the weather can turn cold (even in summer). Please take some water and energy snacks, as well as plenty of clothing layers and make sure to include warm and waterproof items.
It is advised to ride from West to East - Aoraki/Mt Cook to Oamaru.
This is for several reasons - the route west to east is generally downhill (but still encompassing some uphill), and the prevailing wind should be behind you.
Some have completed the Trail from Aoraki Mt Cook to Oamaru and wish to return to do it in the opposite direction. There is no doubt that you will get a different perspective of the scenery cycling from Oamaru on the coast towards the mountains.
With the advent of e-bikes there is less of a challenge on the hill sections and we are seeing more people cycling from the Ocean to the Alps - even if they only do a section or two at a time.
Many parts of the Trail are on canals or run along side lakes and for these sections there is very little difference in the amount of 'downhill' encountered. though the prevailing wind may still be a factor to consider.
You can book a supported or guided tour through one of the tour companies. They will drop off luggage, drive you to various points, and in the case of guided tours, be there with you to make sure everything is going well.

Another option is to find a friend or family member who is keen on the idea of a holiday, though does not want to cycle. They can drive a van and trailer instead of cycling.
There are a number of operators providing luggage transfer.
You may also ask these companies if they provide a car transfer service, so that you can meet up with your car at the end of the day or end of the Trail, which ever works for you.
Yes.
The locations of the toilets are shown on the maps on the Trail Details and Maps pages. These should be stocked with toilet paper, though it is recommended to bring your own as well.
No.
This is for several reasons.
No permission for horse riding has been sought, nor granted from any of the landowners who have generously granted Trail access to their land.

The Trail was funded and built specifically for the enjoyment of walkers and cyclists. Horse hooves can damage the existing trail surface, as it was never designed for their use.
Horses will further cause disruption and issues for cyclists and walkers on the Trail.
No.
Trail users only have permission to use the Trail during daylight hours each day - they do not have permission to use the Trail between sunset and sunrise.
Motorbikes and mopeds are NOT allowed under the terms of the Trail's easements (permission) with the land owners - passage is permitted by bicycle, on foot or any other form of human powered transportation.
Power assisted bicycles (e-bikes) are permitted on the Trail up to a capacity of 300watts - above that level the Transport Authority has designated more powerful e-bikes to fall into the category of motorbikes, which are therefore not permitted on the Trail.
See DOC guideline on use of E-Bikes on Conservation land Electric bikes on public conservation land guideline (doc.govt.nz)
No.
Dogs are not allowed on the Trail. The reason for this is that the Trail easements only include permission to walk and cycle - under your own power - and do not include permission for either horses or dogs.
Some land owners have taken this a step further and asked to have additional signage to say 'no dogs allowed'. If you do not see one of these signs, it still does not give you permission to walk a dog.
The DoC Trail easement on their land - and many others - expressly forbid dogs on the Cycle Trail.
The Alps 2 Ocean Cycle Trail are in no position to grant dog walking permission, since we do not hold that right.
Areas where dogs are allowed.
Sections of the Trail that are on public roads (or on the roadside verge.
Part of Section 8 - the route of the old Ngapara Branch railway line between Weston and Waiareka Saleyards.
For these sections, it is your responsibility to clean up after your dog.
Yes
Squeeze barriers have been installed at several locations along the Alps 2 Ocean Cycle Trail at the request of land owners to restrict access by motorcycles.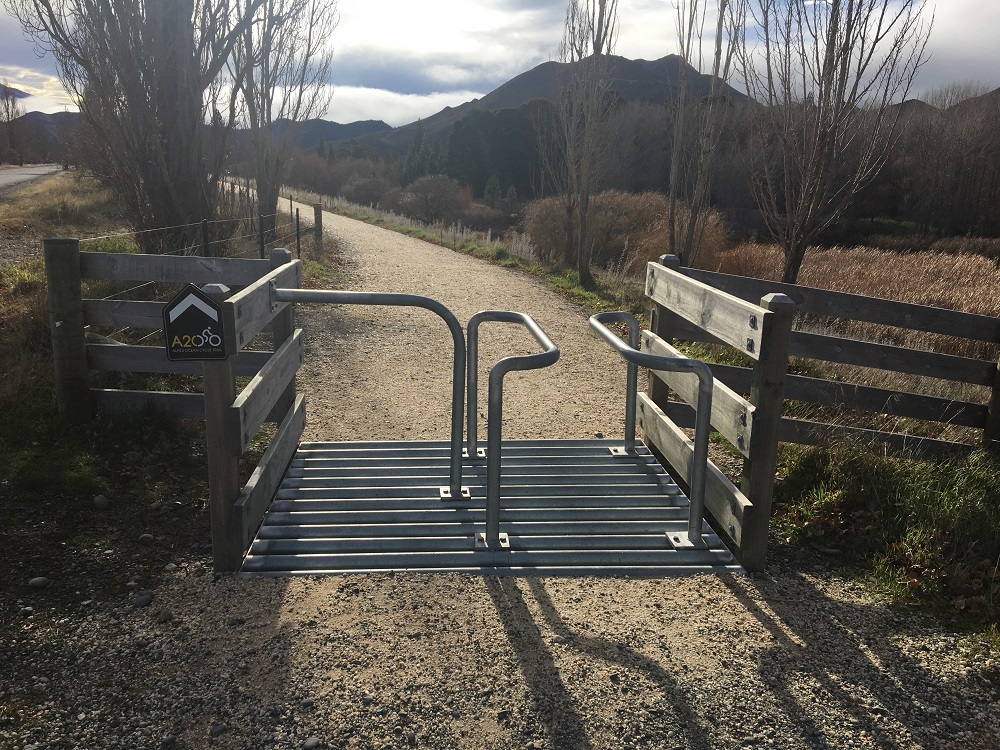 The barriers are all of a standard design, though variation exists in the dimensions of individual installations.
As it is there is no easy solution that successfully restricts motorbikes while granting unrestricted access to wider or higher versions of a standard cycle configuration.
Please contact Alps to Ocean for further details of the barrier locations. Adjacent gates have been installed to allow a bypass for hand bikes and modified accessibility bikes. Please contact us for padlock codes.
Squeeze barriers - General dimensions - Plan view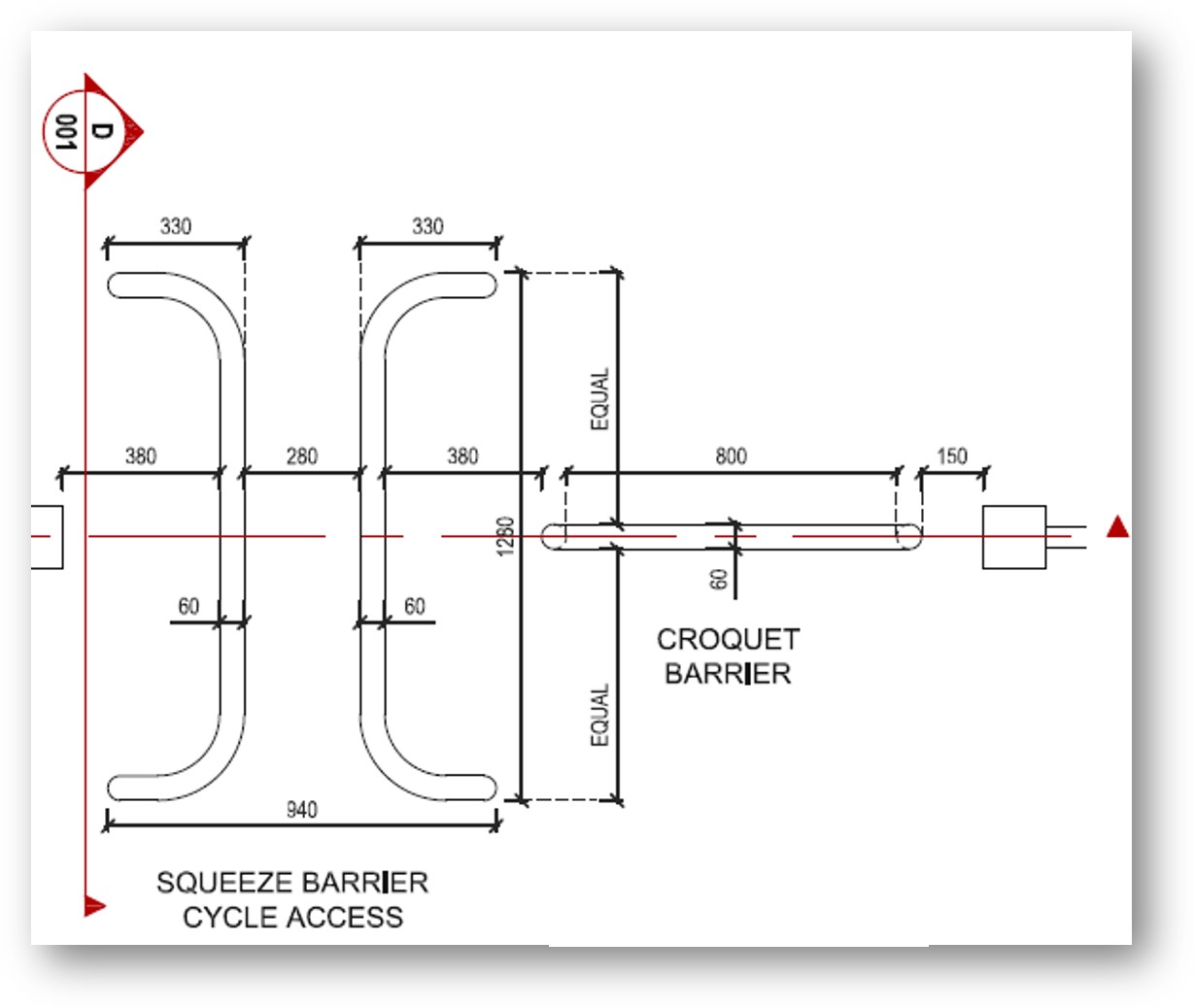 Squeeze barriers - General dimensions - Elevation